TECHNIC AND MUSICALITY WORKSHOP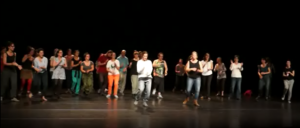 For an initiated or advanced audience:
Different techniques:
Stepping: (Influence of STOMP) Work of rhythmic phrasing using mainly kicks of feet on the ground (Stomps) and hands on the body (Claps), played in dynamic motion in space.
Snapping: (influence of BARBATUQUES and the technique of Fernando BARBA) Work of the fluidity and velocity of the gesture of snapping fingers, rhythmic accents and phrasing, body polyrhythmia…
Gumboots: sometimes called Gumboot dancing, is a type of percussive African dance using rubber boots. In general, dancers all wear this type of boots and perform a choreography on a percussion and singing rhythm. In the workshop, we work on techniques and strikes in a creative and not exclusively traditional approach.
Rhythm Footwork: inspired by the tap dance technique, the Zapateado of Flamenco, the Sand Dance, work of rhythmic phrasing done with the feet, transfers of support and displacement in space, dynamism of the body, rhythmicity of the game of legs.
Different rhythmic exercises:
 even rhythms and divisions of time into ternary, binary, shuffle, Funk rhythms, African and Latin rhythms,  Swing…

coordination exercises, more complex phrasing, developed polyrhythms inspired by trad rhythms. and modern, voice and body percussion …

odd or asymmetric rhythms
Creation of rhythmic phrasings, polyrythmics, focus on the search for groove and musicality, to accompany the voice or the movement for example …